General Vehicle Service / Repair
Auto Maintenance Services
Regular maintenance and inspection lengthens the lifespan of your vehicle and keeps it running at peak performance. A routine inspection and scheduled maintenance checks also serve as valuable bargaining tools when purchasing a used vehicle. The automotive repair experts at Zec Automotive provide certified inspections and a complete range of vehicle maintenance services that protect your investment and your safety on the road.
Brake Repair Pads & Rotors
Brake maintenance is important in helping ensure the safety of you and your passengers. There are a number of signs that indicate your brakes need attention and you want to give them the best attention there is. All brake repairs and brake shops are not the same and at Zec Automotive, we know stellar service doesn't have to exclude cost-effective solutions.
Shocks, Struts Replacement
Shocks and struts are two components of your suspension system that keep your vehicle balanced and riding smoothly with all four wheels on the road. We recommend shock and strut inspections for maintaining excellent car handling characteristics. Blown shocks and struts can cause a vehicle to handle unsafely on public roads. Upon inspection, Zec Automotive and our Tyre service professionals can repair worn out shocks and struts, so your car will handle just like it came new from the auto manufacturer.
System Diagnosis & Repair
With the complexity of today's vehicle, it often takes a highly skilled technician with advanced level tools to get to the root cause of the problem. Our auto diagnostic testing service takes the guess work out repairing your vehicle and comes with our nationwide warranty.
This service includes:
Visual inspection of related components
System analysis
Research of Technical Service Bulletins
Pin Point testing
Component diagnosis
This diagnostic service should be performed when you are experiencing drivability issues, reduced fuel economy, have a check engine or service engine soon light illuminated/or flashing.
Air Conditioning Services
When auto air conditioning systems break down, refrigerant leaks. Not only is refrigerant harmful to the environment, it's also harmful to your car. Leaking refrigerant can damage your vehicle's evaporator and compressor. Getting a car air conditioner service at the first sign of trouble will save you both money and time. Come to Zec Automotive for an AC service repair before any damage spreads.
Tyres & Wheel Balancing
When the experts at Zec Automotive balance your wheels, they are helping to ensure that your tires are spinning around as evenly as possible, which is important for optimal driving performance.
Wheel-balance service includes:
Tyre and wheel removal
Mounting each wheel on a state-of-the-art balancing machine
Spinning each wheel to make sure the weight of the wheel and tire are balanced evenly around the axle
Detecting and locating any imbalance
Attaching a lead weight on the opposite side of the tire to compensate for weight differences
Remounting tyres and wheels
Pink and Blue Slips

Light Commercial Vehicles

Airconditioning specialists

Century Batteries

4 Wheel Drive Repairs

ABS Brakes

Engine Tuning

Exhaust Repairs
Air Conditioning

Automatic Transmissions

Batteries

Brakes

Fuel Injection

Radiator Repairs
Tyre Sales

Steering & Suspension
Diesel Engines

Differential Repairs

Driveline Repairs

Electronic Fuel Injection

Engine Repairs

Manual Transmissions

Power Steering
Courtesy Car

Delivery/Collection Services

Disabled Facilities

Internet Registrations

Tea and Coffee Facilities

Bathrooms

Waiting Room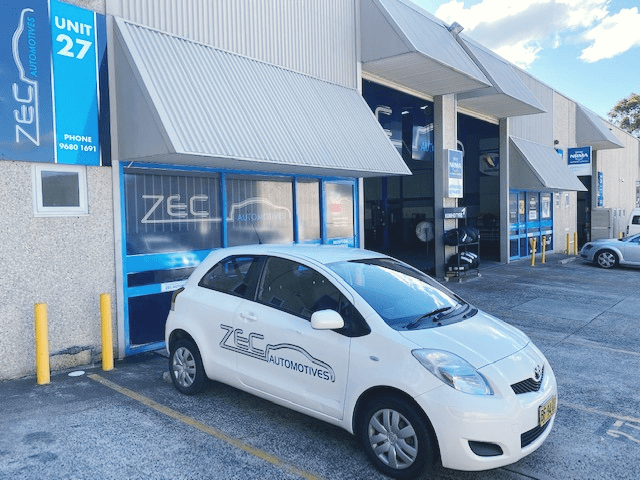 Need a Registration? New Tyres? Brake Repairs?
"I had my car towed into Zec Automotive when my clutch went. Not only did they take my car on at short notice, they turned it around and had it fixed in just over 36 hours. They did a fantastic job and I highly recommend them for anyone looking for a good mechanic."
"They were friendly and efficient also really quick doing my recent 30,000 service. I would highly recommend using Zec Automotive."
"No job is too hard. Every time I've visited I've had the best service and been super happy with the results. Keep up the great work guys."
"Best mechanic I've ever been to. Always great service always do a good job on my car. I've gone there multiple times with different cars for different things and they always do a great job"
"I had an amazing experience at Zec automotive from the time I rang the phone to picking up the car. The team are extremely professional and took great care of the car, they also spotted minor issues I hadn't noticed and didn't charge me for them. The workspace is fresh and really well presented, if you're looking for top notch mechanics in the hills look no further than Zec Automotive."